The world of business continues to change, and so do the technologies driving it forward. While you don't have to be a "geek," as a professional in business or as an owner, you do need to understand the latest technologies and how to best use them in any business so that you don't get left behind by competitors, not to mention younger generation employees.  Leslie will walk us through everything from online apps that can enhance your business, to social media strategies, to transitioning to the latest business technologies in this hands-on session.
Guest Speaker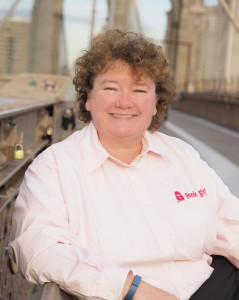 Leslie Fishlock is best known as the Founder & CEO of Geek Girl, everyone's favorite resource for empowering women in tech, supporting start ups and making technology easy to understand and use for everyone from 8-88. Geek Girl accomplishes this through its highly touted, localized Geek Girl Tech Conferences around the country, workshops, seminars, consulting, Help Desks, and Geek Girl for Hire.
Leslie's vision for education, evangelism, entrepreneurialism, and empowering women is apparent when you meet her. Leslie prides herself on being "the resource", and will share everything she knows about entrepreneurialism, startups, growing your business and tech trends with anyone who asks. She is overly, nay, abundantly passionate about Geek Girl and spends every minute of the day trying to come up with new ideas for the female-powered organization to serve everyone; female and male.
Leslie now calls San Diego her home, along with said geeky boyfriend and their three devoted but highly manipulative Australian Shepherds Nano, Duke and Pepper. When they aren't working on their own startups, you can find them supporting, mentoring and investing in other startups around the country, taking long walks on San Diego beaches with their dogs, practicing their 2A and eating fish tacos.
Check Leslie out at GeekGirlCamp.com or GeekGirlTechCon.com
Scholarship Prizes
$96 SoDiego TTT Tour (x2) – donated by Anel Califano
$25 Starbuck's Pumpkin Spice Latte & Cup Gift Set w/$10 Gift Card – donated by 5th Avenue Insurance
$25 Bath & Body Set – donated by Pebbles Dumon
$15 Bottle of Red Wine – donated  by FAI
1 ticket price is $5.00   3 tickets price is $10.00
Remember you can purchase your Scholarship tickets online when you register!
Venue
Join us at Flippi's in Kearny Mesa for some pizza, pasta, salad and mini cannolis.  Soft drinks, tea, and coffee are included.
$25 Students & Members
$35 Guest