AFWA Annual PR Dinner & Speaker, June 21, 2018 Colonel Christina Gramond, US Army Reserve
June 21, 2018
@
5:30 pm
–
8:00 pm
Join us for Dinner and our guest speaker Colonel Christina Gramond as she shares her experiences as an Army officer & her perspective on leadership at multiple levels. Our annual PR Dinner is being held at Harbor House located at the beautiful Sea Port Village. We will also be inducting our new board members and thanking the current board members for bring us another wonderful year of events! We will also be inviting our Scholarship Winners to present them their scholarship awards.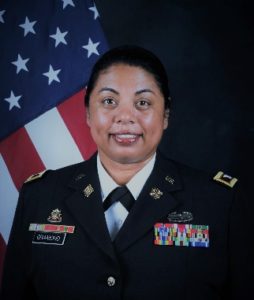 Colonel Christina Gramond United Sates Army Reserve COL Christina Gramond has served in the United States Army 20 years, in both the Active and the Reserves. She is branch qualified as an Engineer and Logistics officer. COL Gramond has deployed to Bosnia, Iraq, and Afghanistan. She holds a degree in civil engineering from San Diego State and a master's in professional studies with an emphasis in leadership from Hodges university. She currently commands the 209th Regional Support Group responsible for 2,100 soldiers. When she is not busy with Army duties, she enjoys her family life with her husband and two girls. Christina will be sharing her experience as an Army officer and her perspective on leadership at multiple levels.
Harbor House Entrée Course
Chicken Béarnaise
is a broiled breast of chicken served on a bed of sautéed mushrooms topped with a creamy Béarnaise sauce.
Flat Iron Steak
is a full flavored and juicy choice cut topped with bleu cheese butter, served with our roasted new potatoes and seasonal vegetables.
Fresh Salmon
is a fresh filet, charbroiled, served with tomato-cucumber relish
Grilled Shrimp Vera Cruz
is grilled shrimp in a sauce of peppers, garlic, shallots, Kalamata olives and lobster broth
Vegetable Risotto
is made with cream and Parmesan cheese is tossed with fresh baby spinach, cherry tomatoes, roasted wild mushrooms, asparagus, summer squash, and garlic.
Dessert Course
Fresh fruit tart
Beverages
Coffee, tea, and sodas included
Members & Students $45/Guest $55
Come and Meet this year's Scholarship Winners!
Scholarship Winners – AFWA San Diego Chapter #17
$250 Associate/Certificate Scholarship – Saida Hassan $500 Undergrad/Bachelor's Scholarship – Madison Lambros $500 Undergrad/Bachelor's Scholarship – Suroor Sada
Scholarship Drawing Prizes
$495 Spa Package – Alvarado Institute of Skin Care $75 Harbor House Gift Certificate – Jim Murphy, GM (2) $50 Gift Card – WileyCPA
Pre-Purchase tickets when you register!
Click on the link below to Register!
REGISTER NOW!