Dinner & Speaker – Fire Capt. Hardenburger "Fire Awareness & Preparedness"
September 19, 2019
@
5:30 pm
–
8:00 pm
Dinner & Speaker – Fire Capt. Hardenburger
"Fire Awareness & Preparedness"
Developing a Home Protection Plan
the goal of an effective wildfire protection plan is to keep the fire from coming close to any building on your property. • Clean out gutters • Removed dead vegetation & low branches • Inspect condition & attachment of screening on windows, vents in the attic, and crawl spaces • Move lumber and firewood to a location more than 30 feet from home, deck, or buildings • Replace untreated wood shake roof • Replace Box-in-eaves that have an open eave construction • Replace single-pane windows with multi-pane, tempered glass windows • Screen all windows. Defensible space zones • 0-5 feet from home-install hard surfaces & avoid combustible mulch products • 5-30 feet from home-locate all outbuildings at least 30 feet from home, plants should be maintained & well spaced • 30-100 (or property line) keep all trees & bushes will maintained. Trees should be 10 feet apart Home/property preparedness • Preparedness in the event of a large incident • Evacuations, shelter in place, escape routes • What you should take with you Dave also thinks it's also important for people to know what the fire fighters are doing during these incidents so everyone can manage expectations appropriately. Dave will explain what would be happening during a wild fire.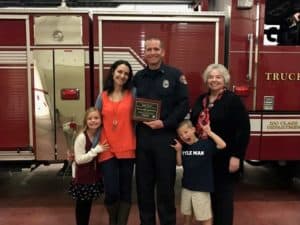 Dave Hardenburger is a Fire Captain and a Paramedic for a San Diego area Fire Dept. Dave has been in the Fire Service for 26 years. During that time Dave has been involved in Hazardous Materials, Rescue, Truck Company operations, wildland and firefighting, and implementing a Paramedic program. Dave lives in La Mesa with his wife and two kids Hannah (10) and Race (8). They enjoy Mountain Biking and going to the Colorado River. Barrell Room – Carmel Valley
First course: Artisan Cesar Salad with Artisan Romaine, Parmesan, Garlic-Lemon BreadcrumbsEntree: Chicken Piccata with Lemon, Capers, and White WineSeasonal Vegetable Pasta – Chef's WhimGood Ole Burger with Cheddar Cheese, Shredded Lettuce, Red Onion, TomatoBeverages included with Entree: Coffee, ice tea, and waterScholarship Raffle Prizes TBA
Click on the link below to register or RSVP
REGISTER NOW!
Don't forget to Pre-Buy Your Scholarship Tickets
President's Note:
Thank you to all of you who attended last month's event at the Bali Hai with our guest speaker Christine Zoumas. I learned so much from her about the different types of diets and finding which one works for you. It's a sad fact but as we age we need less calories (mostly due to loss of muscle and less active) so we need to find what works best for our bodies to keep healthy (lots of veggies, fruits, whole grans, and lean protein), keep those extra pounds from sneaking on think Mediterranean, and move more (150-300 minutes or 5 hours of weekly moderate-intensity movement with muscle-strengthening activities).Find Healthy Habits! Make AFWA your healthy habit as we hit most of the habits you need to be happy!* Time Management * Self-Monitoring * Goal-setting * Benefits and costs * Social Support * Alternative Behaviors * Positive self-talk * Environmental control * Thought-stopping * Planning * Stimulus control * Enjoyment * Convenience * Alternative behaviors * Self-nurturing behaviors * Stress ManagementJust look at these Happy Attendees!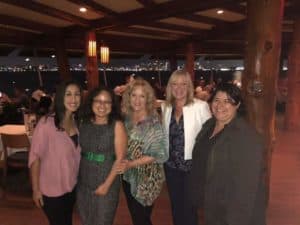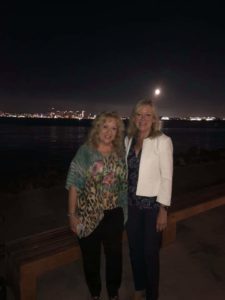 I look forward to seeing everyone this month as we try another new venue a little farther North.Sincerely,Shelly Waddell, President AFWA San Diego
[email protected]
619-729-8074 (mobile)