AFWA Social & Bunco Event – Thursday, April 25, 2019 6:00 – 8:00 PM
April 25, 2019 @ 6:00 pm

-

8:00 pm

$15.00
AFWA Social & Bunco Event – Thursday, April 25, 2019 from 6:00 – 8:00 PM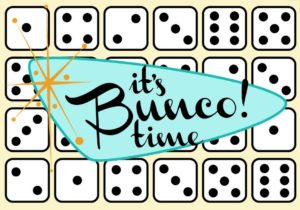 When
Thursday, April 25, 2019 from 6:00 PM to 8:00 PM PDT
Where
C3 Risk & Insurance Services
404 Camino Del Rio South, Ste 410
San Diego, CA 92108
Join us for some fun at our April Social! We're going to play Bunco! Good news is there is no skill involved and there are no decisions to be made! It is a social dice game that involves 100% luck! Also we can eat and drink while playing!
Sounds like a perfect way to relax and network with our fellow members!
O Kitchen (formerly Pat & Oscars) will be catering for us. Chicken, Pasta, Salad, Bread sticks, and Dessert.
We have some great Bunco Gift Card prizes:
* Most Bunco's ($15) – Donated by Pebbles
* Most Wins ($10) – Donated by Pebbles
* Most Losses ($5) – Donated by Pebbles
We'll have food, soda, water and wine!
Don't forget to Pre-Purchase
your Scholarship Drawing Tickets:
3/$5.00 and 10/$10
Help support AFWA Scholarship Fund!
Silent Auction:
$550 Alvarado Skin Care Pkg (Bidding starts at $25)
Scholarship Prizes TBA
$15 For Everyone! Members, Students & Guest!
Click on the link below to register or RSVP.
We apologize for the last minute change in our Social Event. With taxes and Easter it turned out to be an unlucky week to try and hold an AFWA Event so we've moved it to the following week!
A big Shout Out to C3 Risk & Insurance Services for letting us reschedule and allow us to host Bunco Night! if you've never played before please join us as it such a fun game and easy way to network and get to meet some of our wonderful AFWA attendees.
I look forward to seeing everyone next week! Bring a friend!
Sincerely,
Shelly Waddell, Vice President
San Diego AFWA
[email protected]
619-729-8074 (cell)