The Tomorrow Project's Recipe for Reshaping Lives
July 21, 2016 @ 11:00 am

-

1:00 pm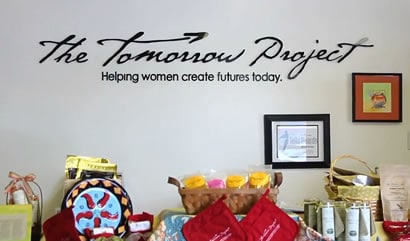 The Tomorrow Project Helping Women Create Futures Today is a work-readiness training program in San Diego, CA that specifically targets the unique issues of homeless women.
Begun in 1994, the need for such a program grew out of Catholic Charities of San Diego's 14 years of providing day center, night shelter and housing services for women.
It became clear the women could use more support to find employment, something that would offer hands-on experience.
Thus, The Tomorrow Project was developed to give homeless women worthwhile work that offered them opportunities to change their circumstances.
While at The Tomorrow Project, the women take advantage of skills assessment and opportunities to "learn while they earn."
This is done through the process of assembling gourmet food products that are sold at their retail and community sales events locations.
Training goals for the women include:
Reporting to work on time
Following instructions
Work cooperatively in a team
Solve minor production problems
Ensure quality of each product
Interact positively with customers
Prepare resumes, applications, & participate in mock interviews
Develop pride in their work
Top San Diego chefs partner with us to develop unique recipes that they donate exclusively for The Tomorrow Project.
Your support and purchase of our products enables us to build women's skills so that they can end their homelessness and improve our training components, product offering, and production facilities.
We're going to have some special speakers:  Someone from The Tomorrow Project will talk about their program as well as a current member of the program will speak on how this program has helped her.
We are also going to have a special guest Chef to show us some tips and tricks to jazz up any pre-packaged  meal and kick it up a notch or two!
Join with AFWA and The Tomorrow Project and enjoy some chili, mushroom risotto, soups, salads, and desserts.  Only $20 per person for members, students, and guests.  $10 of your registration fees AFWA will donate to The Tomorrow Project.  Bring all your friends, co-workers and family to help support this wonderful program!